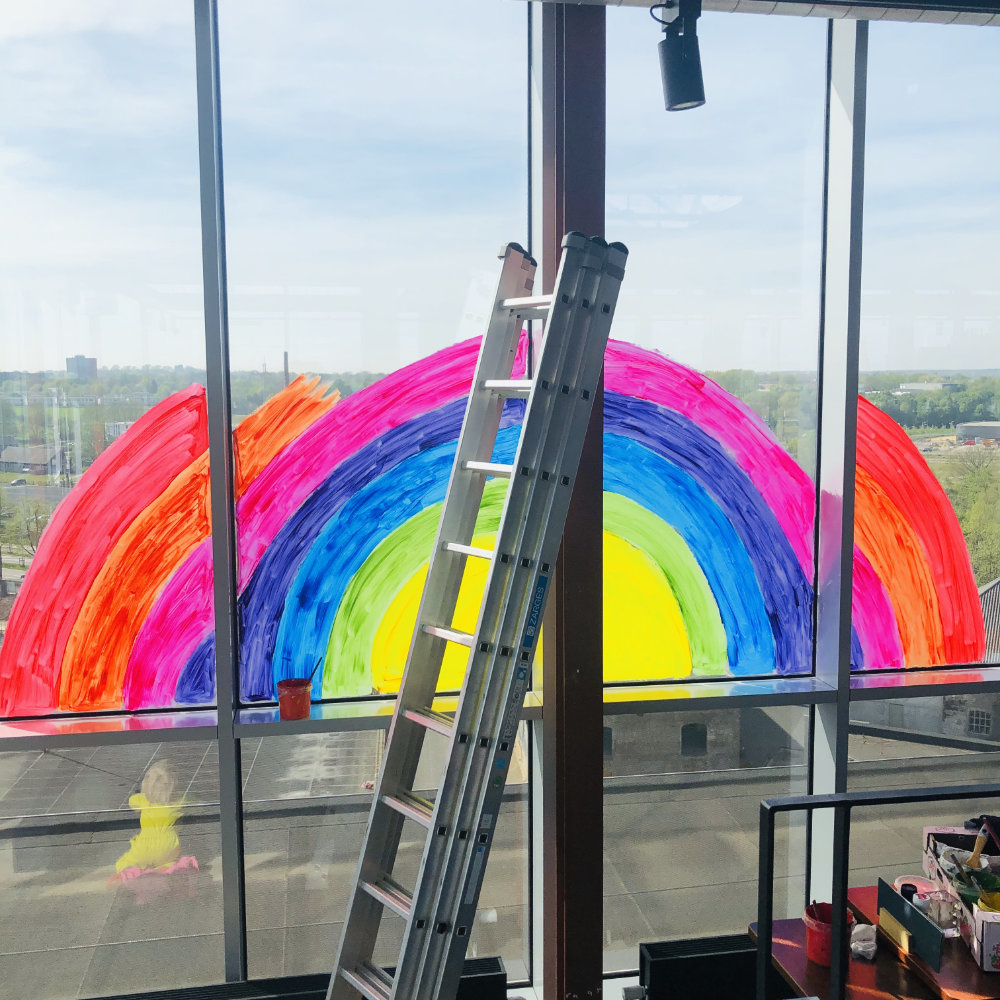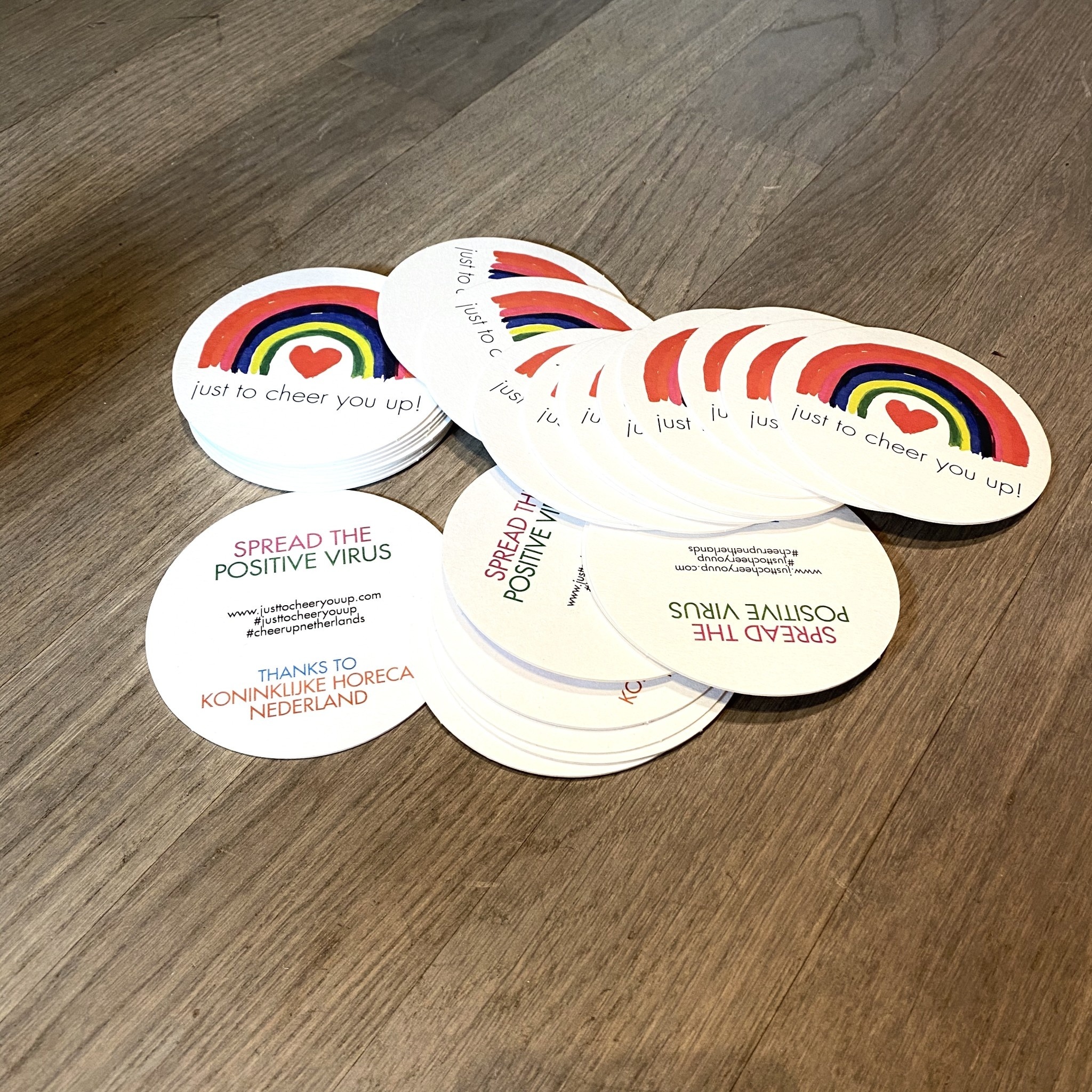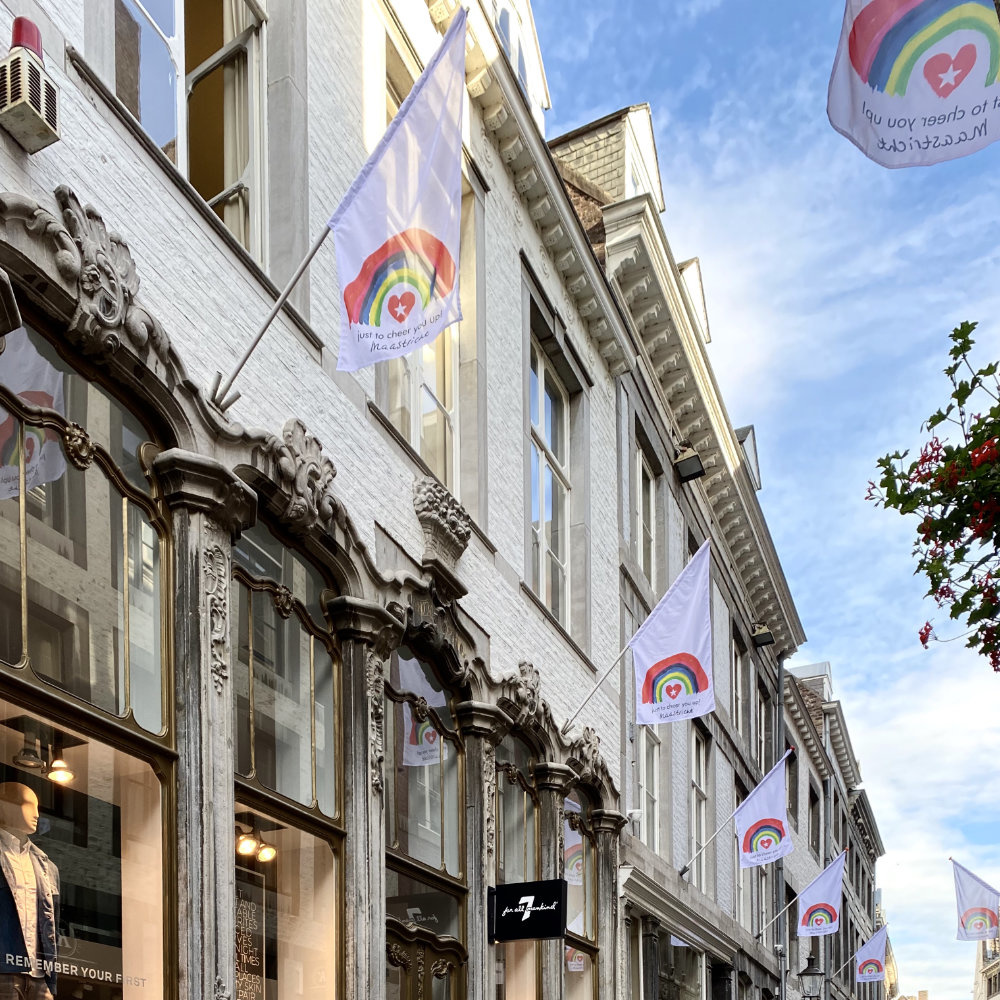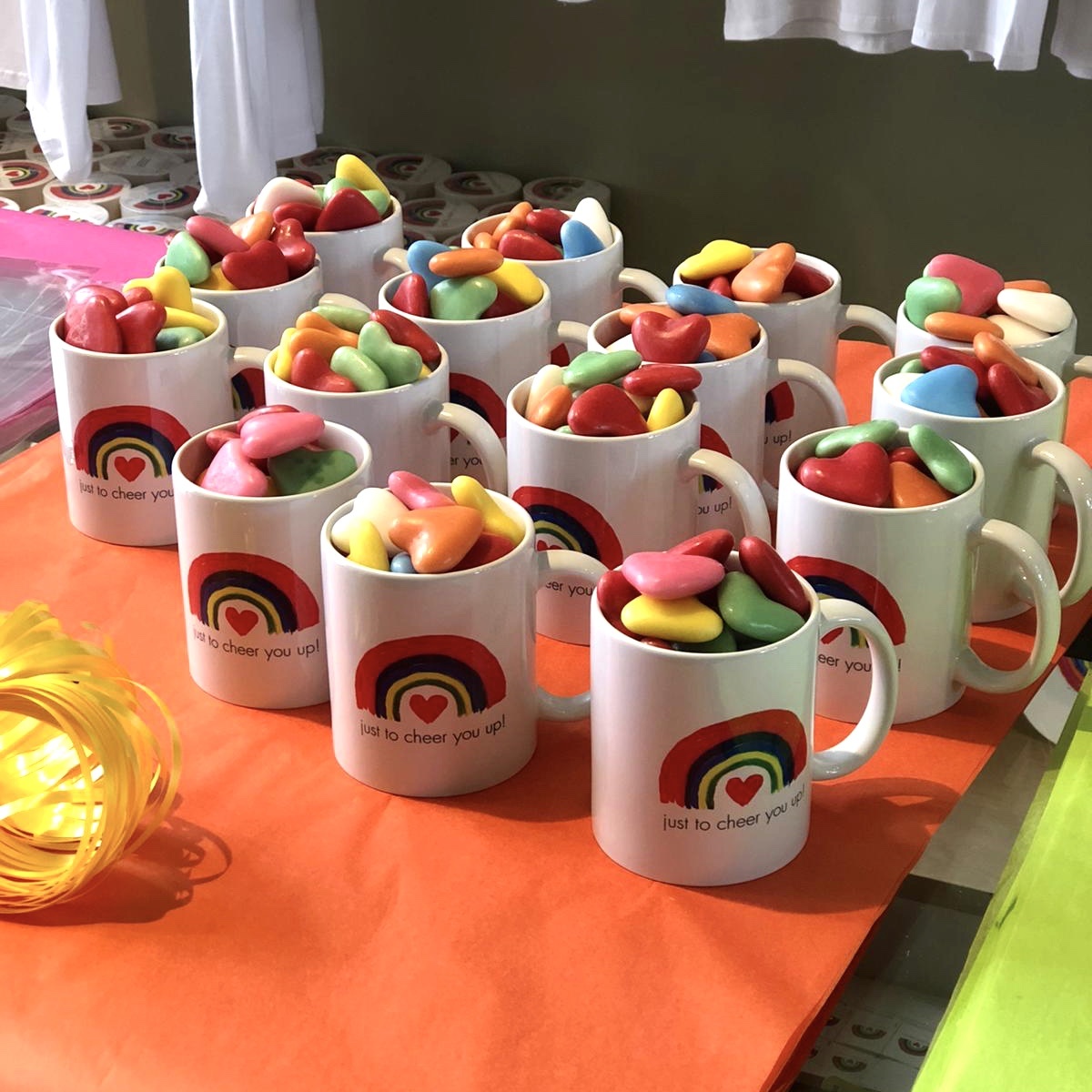 Actually, "just to cheer you up!" is one great happy project,
but sometimes we can do extra fun things! It's kind of a big creative playground
for us and we feel privileged to be able to do it.
Of course we also feel that it is really not an easy time, but we want to
spread the positive vibe as far as possible to try to connect as many people as possible.
Of course we cannot do that all alone, so we enter into partnerships!
In March we started painting the windows of "our" store Kiki Niesten
in the Stokstraat in Maastricht. A rainbow and a white t-shirt with heart.
We just wanted a cheerful shop window because it was so quiet and uncomfortable on the streets.
That spread so quickly via social media that we were eventually
able to brighten up more than 600 windows at 160 companies.
It did not go unnoticed and the NOS invited us to talk about
"just to cheer you up!" during the Kingsday broadcast that was broadcasted from Maastricht.
The idea arose to also make products with our rainbow with heart,
t-shirts and mugs were the first. And that worked out well.
Many companies ordered (candy) mugs for their employees or relations
as something extra in the first months that we were dealing with COVID-19.
We got the hang of it and wanted to make it even bigger.
The idea to print beer coasters and flags with our logo arose.
This way as many people as possible could see our message. And… it also worked.
Together with Koninklijke Horeca Nederland, South Limburg department,
we were able to distribute 165,000 beer coasters at the restaurants and bars in the south of Limburg.
With Centrum Management Maastricht we then managed to hang 700 flags through the city center of Maastricht! We have received an incredible number of responses that it has made the city so much more cheerful. We could not have received a better compliment. 
But it had to get even bigger of course. We want to reach as many people as possible...
To launch our happy collection with our 5 new prints, we danced the "jerusalema dance challenge"
on the Vrijthof, the Markt and the Onze Lieve Vrouweplein in Maastricht.
Incredibly fun, and incredibly well done, more than 100,000 views on instagram and facebook! 

Erik Scherder made a mini lecture for us to explain why our rainbow with a heart makes people so happy and cheerful. Which button in the brain is responsible for this? Apparently it doesn't just happen. 

And now… we are making new plans. Together with the sparkle up your mind foundation, we have designed a "happy títí" t-shirt that will be presented the last week of October. The entire earnings from the sale of these t-shirts will go to the sparkle up your mind foundation, which collects money for research into metastatic breast cancer. 

We must of course close the year with an extra happy x-mas! Sweaters, mugs and cards with two cheerful rainbow Christmas prints are being made. In addition, we want to paint at least 500 Christmas baubles ourselves to spread the positive vibe as far as possible and make it a very merry and happy Christmas. Because with cheerfulness, resilience, tolerance and positivity, everything is just a bit easier.